Behind the Wheel Driving Lessons
Single 2 Hours

$170
1 Lesson X 2 hours per lesson
For teens and adults who are looking to brush up on their driving.
Ideal to refine or polish a student's driving skills and to break bad driving habits.
Also for students who want to practice their driving skills before DMV Driving Road test.
A single lesson does not qualify for Freeway (I-95) driving, unless prior lessons had been taken and at instructor's approval.
6 Hour Package

$490
3 Lessons X 2 hours per lesson

This 6 hour package qualifies for insurance discounts offered by most insurance companies for young adults under 24 years of age.
8 Hour Package

$560
4 lessons X 2 hours per Lesson

Good for teenagers and adults who are looking to learn some fundamental driving skills.
This package is also good for those students who had some previous driving practice and want to reinforce more of their driving skills.

10 Hour Package

$680
5 lessons X 2 hours per lesson
This package is Ideal for students without any prior Driving Practice and want to learn driving properly and safely. Also Designed for teens and adults who want to learn safe, defensive driving skills and to reinforce their driving. Usually includes freeways and parallel parking (depending on students skills)

12 Hour Package

$800
6 lessons X 2 hours per lesson
This 12 hours Package is our most Popular package; it is a complete safe driving choice for novice adult and teenager students.
Most comprehensive course with freeway, parallel parking, (depending on students skills)
20 Hour Package

$1280
10 lessons X 2 hours per lesson

This 20 hours Package is our most devoted package. It's a complete safe driving choice for novice adult and teenager students.
Most ample package with freeway, parallel parking, (depending on students skills) Defensive Driving.
Palm Beach areas served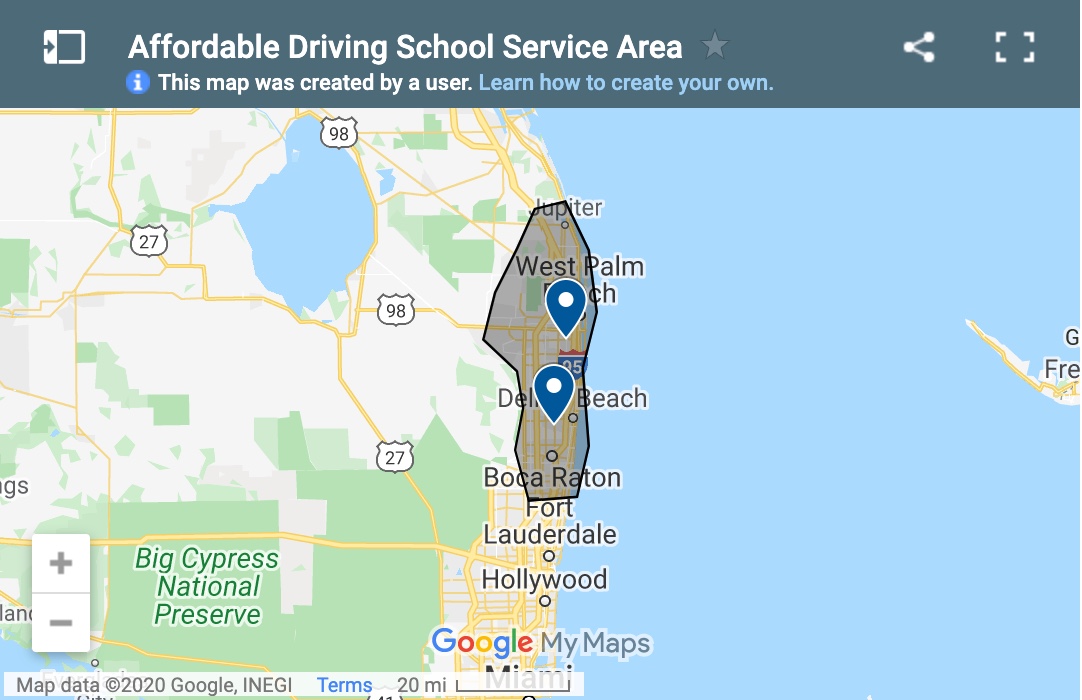 Affordable Driving Traffic School, is family owned and operated. We have been offering In Person Traffic School Courses, Driving Lessons and Florida On-Line Traffic School Classes, to thousands of satisfied students in the Palm Beach County area since 1995. We are also an Authorized Third Party Administrator to give the Behind the Wheel Skills Road Test and the Knowledge Test (Written Test).

All our Traffic Ticket Courses and Driving Instruction Programs are Approved and Certified by the Florida Department of Highway Safety and Motor Vehicles. Our Traffic Ticket Classes have also been approved by Department of Motor Vehicles of other States such as Virginia, Georgia, North Carolina, Texas, California, just to name a few. These Courses are taught by Certified and Experienced Professional Instructors to help students improve theirs Driving knowledge and safety.
For traffic tickets or Traffic Citations (summons), students can elect the 4 hours (BDI) Basic Driving Improvement Class to avoid points, which in turn prevents increase of insurance rates. This BDI class is also accepted by all Florida Courts and Florida DMV for their Court and State Mandated Courses.
We also teach Judge or Court Ordered Courses such as Youthful Offender Courses, 8 Hours IDI Course, Aggressive Driving Improvement Class, 12 hours (ADI) Advanced Driving Improvement Course.
For new drivers, students must first attend a 4 hours Traffic Law and Substance Abuse Education Class also known as the Drug and Alcohol class. Once this DATE class is completed student are reported to Florida Department of Highway Safety & Motor Vehicles; students also receive a Certificate of Completion as proof that this Drug and Alcohol class was successfully completed. The second step is to take the written test or what is now called the knowledge test of Florida Traffic laws and regulations. Students must read the Florida Hand Book in order to pass this test. Once the student passes the knowledge or written test a learner's permit is issued and this is what a student needs, regardless of age, so that we can teach behind the wheel lessons.
For Driving Lessons or Behind the Wheel Instruction, students must have a learner's permit regardless of age. Our lessons are private and consist of 2 hours each lesson (we have driving package deals). We pick up our students at home, school or work at no extra charge. Our Driving Instructors are State Certified (we all must pass a background check every year for For re-certification). Our Driving School vehicles are late model and dual control, so we have total control of the vehicle. We really teach our students how to drive safely and properly.
---
Our Traffic Ticket Classes are taught In-Person, which is the best and easiest way to complete your class.
Call Us Now!

(561) 969-0150
BBB Accredited Driving & Traffic School with an A+ Rating.
For more information just call us, we always answer our phones!
Phone: (561) 969-0150